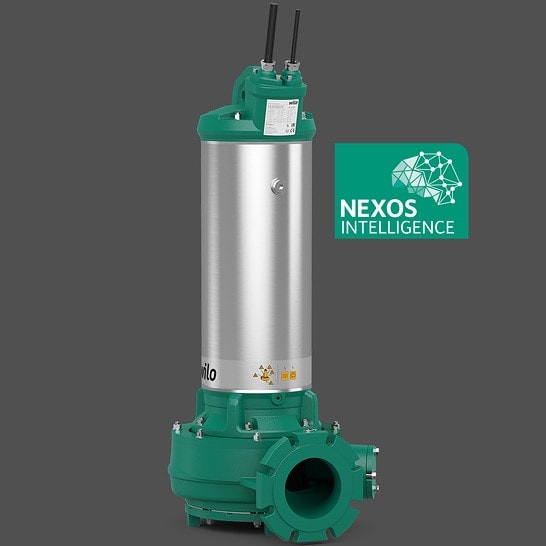 Connecting Water Management With The Future: Wilo-Rexa SOLID-Q
By introducing the Wilo-Rexa SOLID-Q in 2018, Wilo offers an intelligent system solution for a smart sewage pumping station. The integrated Nexos Intelligence accommodates digitalisation and automation by detecting blockages and automatically starting flushing cycles.
With the Ethernet interface built into the pump for the first time, the system can communicate with the other components of the smart wastewater pumping station and forward the data to a control system or cloud for further analysis.
Pumping untreated wastewater is an important task that is becoming increasingly demanding due to the growing prevalence of solids and the retention time in the network. The medium to be pumped is also becoming increasingly aggressive and problematic. Sewage, the treatment of sludge and sludge liquor, abrasive or fibrous media require pumps and pump systems with great operational reliability and a long service life as well as intelligent control and connectivity.
The Wilo-Rexa SOLID-Q with Nexos Intelligence is such an intelligent system solution for a smart sewage pumping station. It is characterised by a high level of energy efficiency and connectivity in combination with digital interfaces and customisable functions.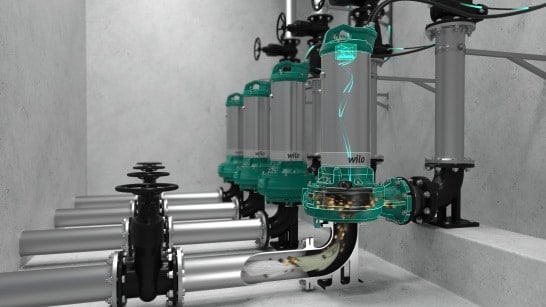 Greater operational reliability
The new Wilo-Rexa SOLID-Q with Nexos Intelligence is a holistic and future-proof system solution for smart sewage pumping stations and has the following properties:
dynamic adaptation to changing requirements thanks to novel integrated Nexos Intelligence
highest operational reliability and reduced service requirements thanks to self-cleaning feature
corrosion protection thanks to optional Ceram coating to promote a long service life in aggressive fluids
increased operational reliability in the event of a fault thanks to the redundant design of the integrated pump control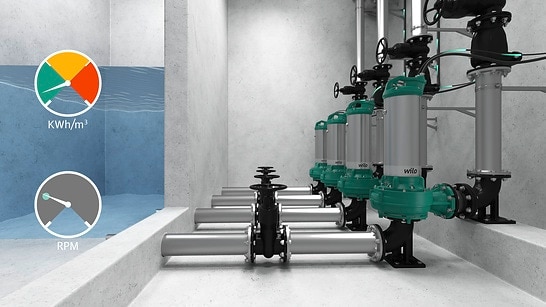 Greater energy efficiency
The energy consumption of a pumping station is crucial for its economic efficiency. The new Wilo-Rexa SOLID-Q with Nexos Intelligence provides active support to operators:
reduction of energy costs thanks to high hydraulic efficiency and up to IE5 motor technology in wet and dry well installation (based on IEC60034-30-2)
maximum system efficiency thanks to automatic determination of the optimum duty point and intelligent speed control
reduction of operating costs by avoiding cost-intensive maintenance work at night or at weekends
lower energy costs thanks to automatic controls for the optimum mode of operation for the specific system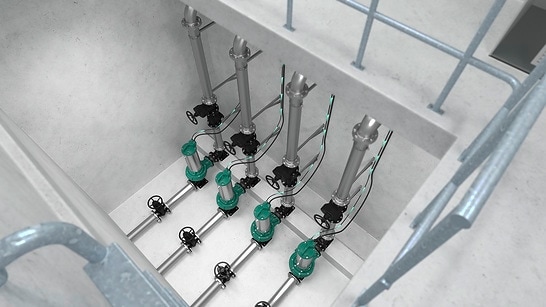 Greater connectivity
Thanks to its high level of connectivity and the greatest possible compatibility of the digital interface, the Wilo-Rexa SOLID-Q with Nexos Intelligence makes the operators' day-to-day work more convenient:
optional digital data interface (DDI) with vibration monitor, data logger, web server and digital rating plate for convenient monitoring and system integration
control and connectivity with the communication network via a web server and Ethernet interface with standard network protocols
integrated control electronics for identifying and rectifying clogging independently
In addition to advancing the topic of energy efficiency, Wilo is also a climate change and digital pioneer. Wilo firmly believes that the smartest and most digital products are the most intelligent, and therefore enegy-efficient, products. Solutions such as the new Wilo-Rexa SOLID-Q with Nexos Intelligence provide highly efficient, optimised processes. This is an important contribution to climate protection, as pumps consume an estimated 10 per cent of the electricity generated worldwide. This means there is a clear correlation between digital transformation, energy efficiency and climate protection.