The Pioneer: Submersible sewage pump Wilo-EMU FA
Since the 1980s, the requirements for efficient and environmentally conscious solutions for wastewater and sewage technology had also increased. Water shortage and a growing demand for fresh water in the urban areas had caused a considerable rise in demand.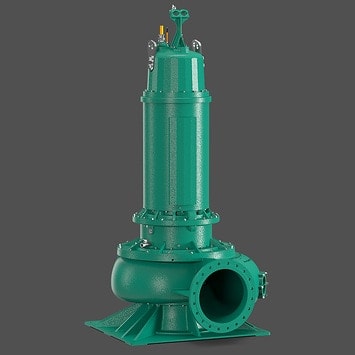 With its highly efficient submersible mixer, Wilo had developed a powerful apparatus for treating sewage and sludge in 1995. A few years later, in 2001, the Wilo-EMU FA with an HC motor was introduced on the market – the world's first submersible sewage motor with a hermetically sealed cooling system.
In this case, the coolant is impelled by an impeller that is driven via a magnetic coupling. This material is structured such that the drive torque of the driver is transmitted synchronously and asynchronously, which ensures the permanent drive of the cooling impeller.
The Wilo-EMU FA demonstrates its strengths in the context of pumping sewage. The risk of clogging increases due to the higher amount of solids and fibrous material in the water. This results in an elevated risk of malfunction. In extreme cases, this also means higher servicing costs for the operator.
Wilo introduced the solution to the market in 2009: the low-clogging impeller technology called SOLID (Safe Operation Logic Impeller Design). It was developed specially for untreated sewage and is highly efficient. Equipped with this impeller technology, Wilo-EMU FA pumps ensure greater operational reliability while reducing the operating costs at the same time.
Thanks to the great bandwidth of different motorisations and hydraulics, the Wilo-EMU FA series offers the performance-based solution for any requirement, including with regard to consistency.
For the purpose of pumping abrasive or corrosive fluids, the standard 2K coating of the pump can be replaced with the Wilo-Ceram coating. It displays excellent adhesion and is extremely resistant to aggressive fluids thanks to the aluminium oxide elements.