The Sea… Water… Here is my passion
Holding a responsibility in this field means a lot me.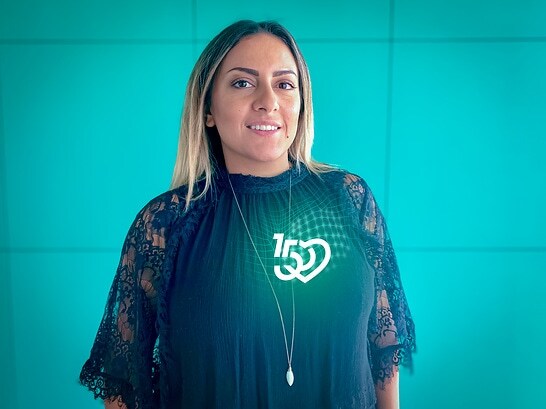 Hello, my name is Sarwat Nassar.
I am from Lebanon, heading the competence team at Wilo Levant Platform.
I've been working with Wilo for the last 6 years and today, I will show you how I spend a regular day at work.
I always start my day with a boost of energy and positivity, enjoying a Lebanese cup of coffee and the morning sunrays by the beach.
My job gives me the opportunity to be in continuous contact with colleagues from diverse countries and cultures. Within my role, I directly influence the people around me, which puts me on a high level of responsibility.
This year, Wilo celebrates its 150th anniversary. Throughout this journey, Wilo has built a strong corporate culture, marking its traditions while keeping an eye towards the future.
I wish the company for the 150 years to come, to maintain its leading position in providing innovative solutions to the world's challenges ahead.
I am proud to be part of an organisation in which every team member feels valued and special. Everything we do in our daily work is guided by the responsibility for the people and the environment, and our respect for one another.
Seeing professional relationships growing into good friendships is very motivational. One of the things I like the most here, is our human spirit that gets nourished throughout the years by many social responsibility activities I had the honour to be part of.
Wilo gave me the opportunity to improve on both, the professional and personal levels thanks to a management culture that grants us freedom of expression, independence, and room to communicate new ideas.
If I were to describe Wilo in 3 words, they would be: Life, Empowerment, Sustainability.
My Wilo heart beats for every technical training or workshop I get to prepare. It feels great to be trusted by others and valued for the knowledge we are sharing. What is most satisfying to me, is the high level of engagement I get from our customers and partners with whom we make sure to maintain a solid bond and good relationship.
It is very important to find balance in life. The areas where we spend most of our time should match what we value the most: Work, Family, Friends and Self.
One of my favourite hobbies is Scuba Diving. It charges me with adrenalin and allows me to discover a completely different world.
What I aim for is to keep improving and to always exceed the challenging goals I set to myself. Today, I am grateful for what I have reached somewhere in which all the values I stand for are reflected in a balanced professional and personal life.