Hello, I´m CHO HYEWON of Wilo Korea.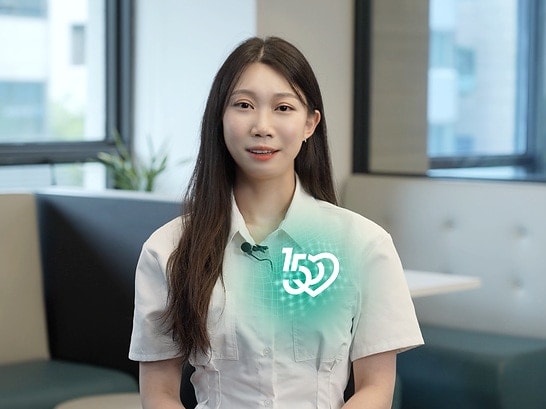 I'm from Seoul, which can be described as a "hub of Korea", with its varieties of entainments, convenient transportation systems, and a highly modernised city.
As you all agree, I always start my day with a cup of coffee. Since then, I have been working hard to make sure that my daily routine flows well by organising the to-do list so that I don't miss the important tasks.
I'm a new employee who joined the company half a year ago. The main tasks are arranging and ordering logistics shipments a lot. Due to the nature of overseas sales, we are conducting a lot of exchanges with the customers abroad, writing a lot of email through Outlook, in addition, we are conducting video meetings with overseas customers through Teams. And we use the computer system called SAP to manage orders and organise the following schedules.
Work-life balance is positioned as a very important factor to me. Usually, when I don't work, I enjoy exercising for my health, such as pilates or golf. Besides exercising, I usually travel around Seoul, go on picnics, exhibitions and so on. I need to be healthy and have my own refreshment to be more creative. Through that, I can provide more important things to our customers. It's a step to understand better what our customers' real desires are. I think it's very important to keep this work-life balance with myself.
The three words that come to my mind are passionate, green, worldwide.
First of all, the reason I came up with the word passionate is, because the Wilo family is always full of passion that contributes in providing sustainable and clean water. Second, I think Wilo's sustainability development to make the Earth green plays a huge role. Lastly, the reason why I thought ot the word "worldwide" is that Wilo offers pumps for water supply around the world, via varieties of technologies. The world population is getting a lot of help through it, so I came up with the word worldwide.
In addition, Wilo is not only working on projects that have been done in the past. I think they've been making innovative progress for 150 years. For the next 150 years, I highly look forward that we can become a company that provides clean water and has progress in sustainability around the world.
As a member of Wilo, I will always come up with creative ideas to become one who contributes to the better future with developments. Thank you.