Big family party at the Wilopark
Dortmund, 10.09.2022
Even the rainy weather couldn't dampen the mood: Together with guests from all over the world, we had a big family party on Saturday to celebrate our 150th anniversary. About 3,500 employees, family members and friends as well as invited guests attended the event at the Wilopark. The guests included Dortmund mayor Thomas Westphal and former mayor Ullrich Sierau. North Rhine–Westphalia's Minister President Hendrik Wüst extended his greetings to the employees via video message.
Festive opening by Oliver Hermes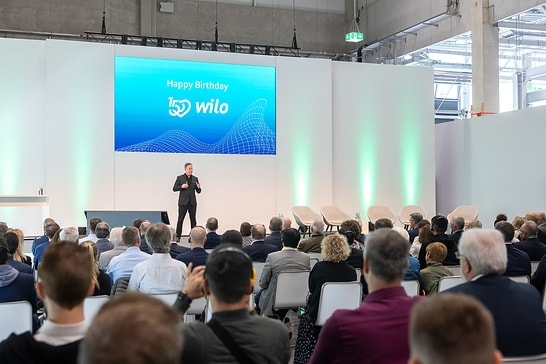 Oliver Hermes, President & CEO of the Wilo Group, opened the family festival in the late morning and addressed the employees directly. "This family party is a big thank you to our employees. We have three years of pandemic with many hardships behind us. But today, it's time to party."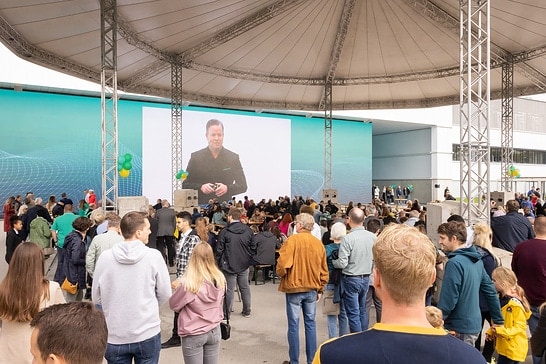 Oliver Hermes had special words of welcome for Dr Jochen Opländer: "You said that today is one of the most important days in your life. We greatly appreciate that. We hope you like what we have to offer here today." In his speech, Dortmund Mayor Thomas Westphal added: "Wilo has always been a global player with heart, down to earth and true to our city of Dortmund. That's why Wilo has always let all its employees know: It all depends on you."
Inauguration of the hydrogen pilot plant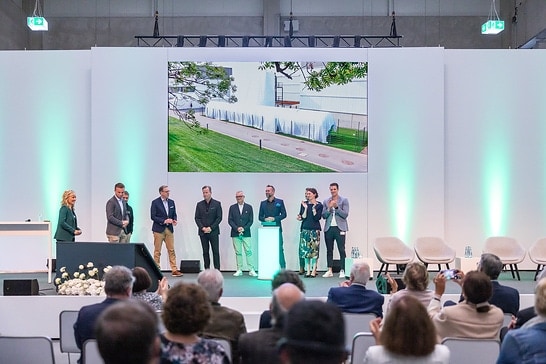 The company's own hydrogen pilot plant was inaugurated in the early afternoon as a special highlight. With this modular power plant, the company is laying the foundation for a self-sufficient, decentralised and regenerative energy supply network. "This is a strong contribution to climate protection made in Dortmund," emphasised Oliver Hermes during his speech. "With it, we are showing how industrial companies can make an essential contribution to climate protection and security of supply with forward-looking solutions that are open to different technologies."
From the life of a sportsman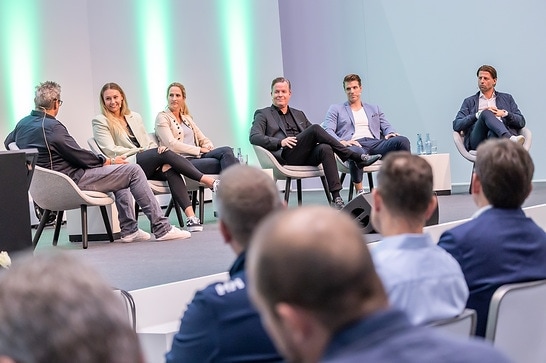 In a panel discussion hosted by Norbert "Nobby" Dickel (BVB legend and stadium announcer for 30 years) about their everyday life as athletes, active and former top athletes, including Roman Weidenfeller (two-time German football champion with Borussia Dortmund), Richard Schmidt (Olympic gold medallist in rowing as well as world and European champion in the German Men's Eight), Laura Nolte (Olympic two-person bobsleigh gold medallist) and Corina Scholten (tennis team world champion).
Diverse event programme for young and old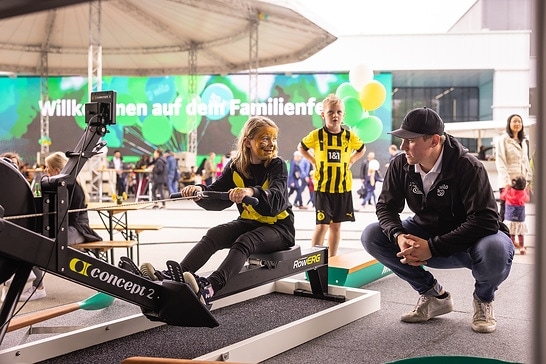 Meeting friends and colleagues and having fun with the family: The Wilopark became a small fair on this day, offering something for everyone. The little ones could have fun on the bouncy castle, score goals into a "goal wall" or be transformed into wild animals at the face-painting station. Those who were really brave had their picture taken with Emma the bee, BVB's larger-than-life mascot.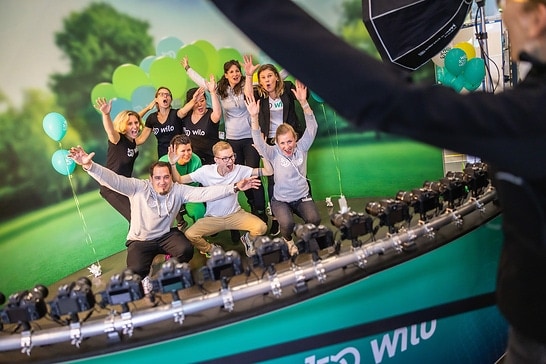 Plenty of variety was also offered to adult visitors: Different factory tours gave insights into the production site in Dortmund, the Smart Factory, and many guests had themselves photographed in 3D at the photo station together with their loved ones.
Thanks to the numerous food trucks as well as food and drink stations with sweet and savoury food no one had to leave hungry.
The grand finale: the Wilo band "Steilvorlage"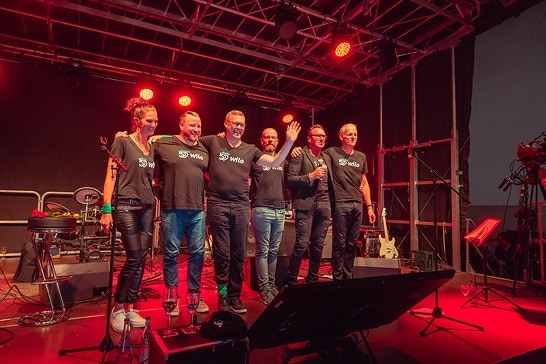 Some people will have hardly believed their eyes when the Wilo band "Steilvorlage" made the empties hall shake in the afternoon. Well-known faces from the Wilo staff sang hits such as "99 red balloons", "An Tagen wie diesen" (song by the German band Die Toten Hosen) or "Summer of 69". With the last song "Unser Ruhrgebiet" (Our Ruhr Area), the band slowly heralded the end of a varied family festival, which will surely remain in the memory of all participants for a long time.