5th China International Import Exposition (CIIE)
Shanghai, 5.-10 November 2022
With the hashtags "German Quality", "Digital Pioneer" and "High Efficiency", Wilo showcased the Matrix series pumps, the 2nd water supply solutions, the Flumen mixer and other tailored products for Chinese customers at the 5th CIIE which took place from November 5th to 10th. The innovative products, fancy booth design and series activities made Wilo a hotspot of the exhibition.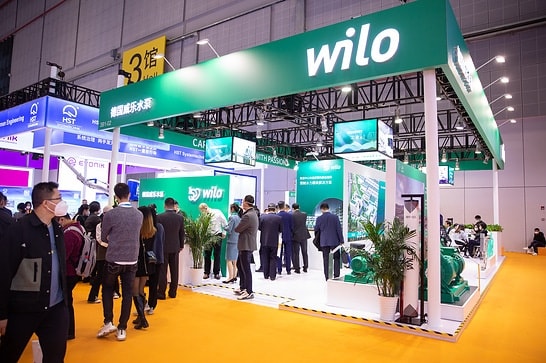 Taking advantage of this significant event, team hosted Wilo's 150th Year Anniversary Ceremony by inviting the Consul General of the German Shanghai Consulate, leaders from AHK and local officials from Wilo Changzhou factory. Mr. Heltmann, the Consul General, spoke highly of Wilo's passion to pursue perfect products during the past 150 years and thanked Wilo for its contribution to bridge the relationship between Germany and China. Wilo also strengthened collaboration with three customers and China Heat Pumps Association, Energy and Environmental Service Industry Alliance by signing strategic MOUs at the event.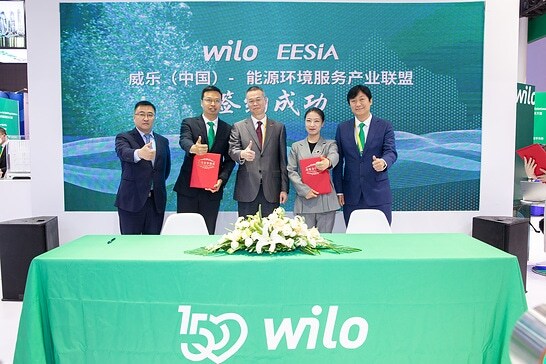 Wilo China registered over 20% sales growth in 2021 despite the impact of Covid19, and we are confident to achieve further growth in 2022, said Lyman Tu, the Managing Director of Wilo China, when taking interview from China Daily. China's broad market prospects, integrated supply chain and improving market environment are the main reasons for Wilo to expand our presence, Lyman added.
Xinhua Agency, Global Times, Beijing Daily and some leading industrial media also reported about Wilo's exposition at the CIIE. As one of the most important trade fairs in China, CIIE was initiated by President Xi. In this year, over the half of the world's top 500 companies and industrial leading enterprises participated in the exhibition, and a total of 145 countries, regions and international organisations took part in the event. This is the second time for Wilo join the trade fair.